Hand sanitiser

has become the latest handbag essential after the Covid-19 pandemic took the world by storm.
Sychem, winner of the Queen's Award for Enterprise 2022, are specialists in all things Disinfection, Sterilisation and Decontamination.
We offer a range of hand sanitisers and sanitising solutions, designed to keep you and your loved ones safe.
What is hand sanitiser?
A hand sanitiser is a liquid, gel or foam that is generally used to kill many different types of viruses, bacteria & microorganisms on the hands. It is an alternative to washing hands with soap and water an action that, depending on the environment, is not always readily available.
Listed on the WHO's List of Essential Medicines, sanitiser mainly comes in two varieties, alcohol-based and non-alcohol based.
SychemPROTECT range of hand sanitisers
At Sychem, we offer the Protect range, designed to protect you and your loved ones from any potential diseases. SychemPROTECT is an alcohol-free hand sanitiser that acts as a disinfectant and antiseptic. It is intended for use as a hand sanitising solution and offers safe & effective skin cleansing. A multipurpose solution, SychemPROTECT cleanses, disinfects and sanitises across a wide range of industries. SychemPROTECT can be used anywhere from Healthcare to Veterinary science to Food processing! It is a proven chemical solution that is safe to use in all environments, including food, animal and human. SychemPROTECT features unrivalled benefits, including:
The ability to kill >99.999% of bacteria
Destruction of encapsulated and un-encapsulated viruses
An Alcohol-free formulation
Available for use in all environments
Prolonged antimicrobial protection
Conforms to EN 1500
Our SychemPROTECT hand sanitising solution is available in a variety of sizes, a handbag-sized 50ml, a larger 600ml and a 1000ml refill solution.
Where to use Sychem's Protect range?
SychemPROTECT hand sanitiser is a versatile solution that can be used anywhere and everywhere! With an alcohol-free formula, SychemPROTECT has a home in a variety of industries, including:
Personal Care
Hospitals
Research facilities
Hospitality
Veterinary & equestrian facilities
Public & Private Transport
Hospitality
Facility Management
Gym & Fitness Centres
Schools & Nurseries
Residential Sales & Letting
Sychem Alcogel
While our SychemPROTECT range is our most popular collection of hand sanitisers, we also offer our Alcogel range. Sychem alco gel is a fast-drying, alcohol-based hand sanitiser, available in various sizes.
Sychem Alco Gel is a hand sanitising solution that contains a minimum of 67% alcohol. A high-level broad-spectrum antibacterial hand cleanser gel that is fast drying on hands and skin, with the added benefit of not leaving a sticky residue after application.
Refreshing and cleansing the skin, our Alco Gel is ideal for use in offices, care homes, food services areas, GP surgeries and veterinary practices.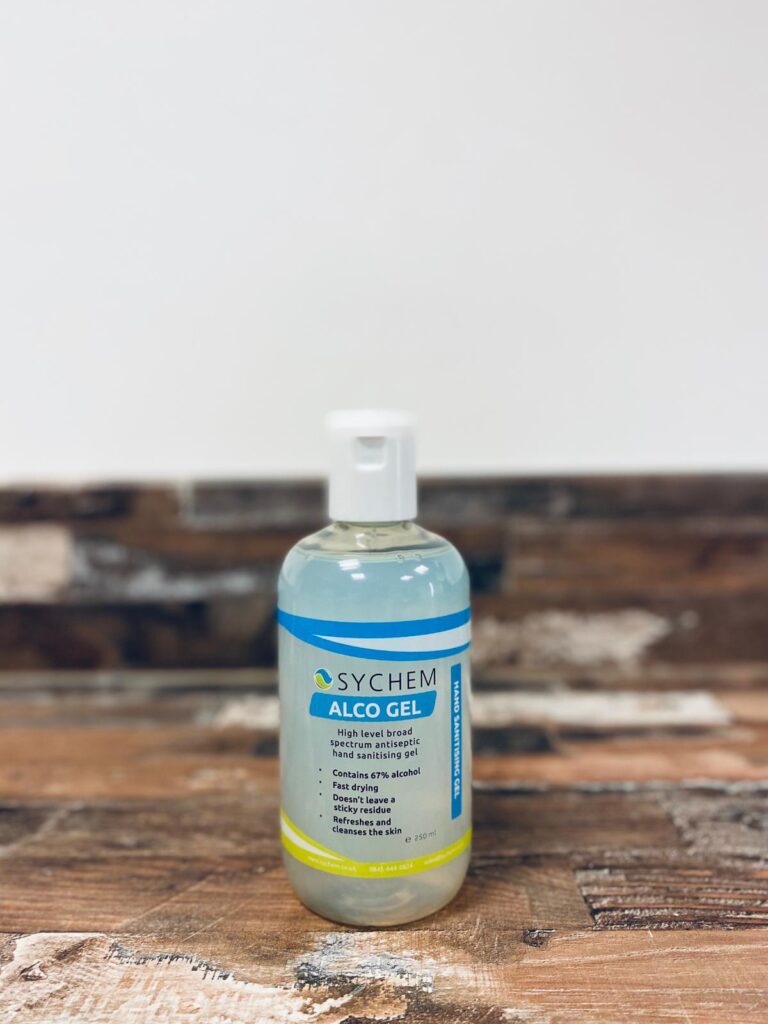 Transmission Pathways
Infection control is the process by which improvement or change occurs to interrupt and monitor a critical transmission pathway. What is a transmission pathway? It is the route a microorganism (a bug or a germ) uses to travel from one location to another. Not many people consider the simplicity behind infection control management, but here at Sychem, we strive to enable individuals the knowledge and confidence to better serve their facilities via the identification of the risks affecting their processes and procedures. The four main transmission pathways are;
Hands/skin
Surfaces
Water
Air
Complete chemicals
As disinfection specialists, Sychem offer a diverse range of chemicals designed to keep you, your loved ones and various environments safe from microbes and bacteria. We offer a collection of alcohol-free hand sanitisers and hand washes, surface cleaner disinfectants and mist platforms.
We offer the SychemMIST, SychemPROTECT and SychemCONTROL ranges.
To see our range in action, take a look at our Instagram account!
If you have any other questions, or to discover Sychem's complete portfolio, contact a member of our expert team today.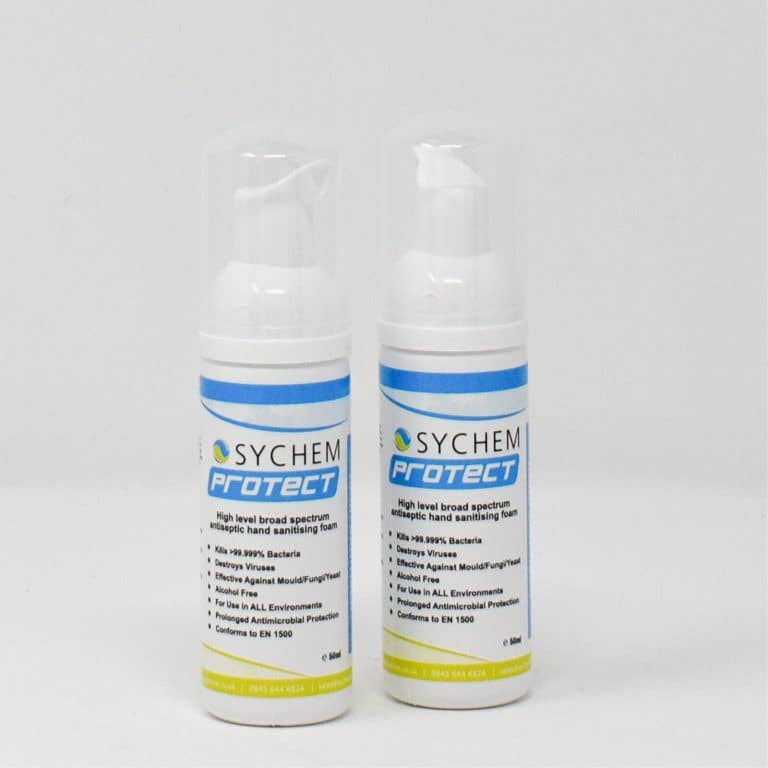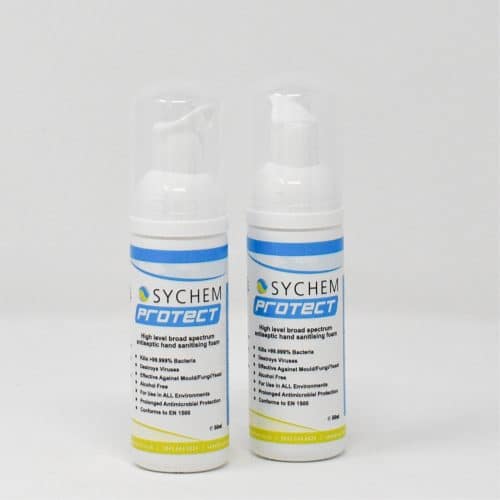 SychemPROTECT Hand Sanitiser 50ml
High-level broad-spectrum antiseptic hand sanitising foam
£

3.75 –

£

35.00
View Product