An
ATP Hygiene Monitoring system

is used to measure the level of cleanliness on a surface. It provides accurate results that define, monitor & maintain cleaning standards within a facility. We offer the SystemSURE Plus, providing ATP Test results in 15 seconds, and the EnSURE Touch, a user-friendly system that is also the

most sensitive & intuitive unit on the market.
At Sychem, we offer a variety of ATP Hygiene test Swabs, to be used in conjunction with our Hygiena ATP Hygiene Monitoring systems to improve the cleaning processes within your site or facility.
What is ATP Hygiene Monitoring?
ATP Hygiene Monitoring is used to measure levels of ATP on a surface, and thus the cleanliness levels of a facility.
ATP (adenosine triphosphate) is an energy molecule that can be found in all living cells, that allows cellular metabolism to take place. All forms of organic matter contain ATP, and in Healthcare settings, there are many forms of organic matter such as bodily fluids, blood and bacteria left on surfaces.  This organic matter can become a point of cross-contamination between patients and staff, potentially leading to hospital-acquired infections (HAI's) if not properly cleaned. Thus, the inclusion of ATP Hygiene testing after a surface has been cleaned is an essential indication of cleaning efficacy.
What is an ATP Hygiene Monitoring system?
An ATP Hygiene Monitoring system is a device that is used to check the cleanliness of an environment. The system provides a numerical value reading that is used to spot check the cleaning standards deployed by a site's cleaning or infection control team.
The ATP system uses a hand-held device (the luminometer) combined with a sampling swab ( a Hygiena sampling swab that can be found on our Sychem Shop) to identify the cleanliness of any given surface or water sample, by identifying the level of ATP that is present.
It is widely known that there is a higher chance of the presence of microorganisms where there is ATP. Thus, the higher the ATP level, the higher the probability that bacteria and germs are present. The cleaning and Infection control team will incorporate the use of an ATP system into standard cleaning procedures, to allow the fast and effective inspection of areas within a mere 15 seconds of the swab being placed in the handset.
The system is used for trend testing, and the results are often reviewed to ensure the cleaning team's efforts and products match the cleaning standards for that area. In addition, the measurement received from the ATP test assists organisations in determining from a microbiological level if a surface has been cleaned properly and is safe for use, or if it requires recleaning.
Which Hygiene Monitoring systems are there?
At Sychem, we work in partnership with Hygiena to offer some of the finest ATP Hygiene Monitoring systems on the market. We offer both the SystemSURE Plus, the 'world's best selling ATP sanitation monitoring system' and the EnSURE Touch, a 'next-generation touch screen quality monitoring system'.
The SystemSURE Plus has been the number-one ATP Hygiene Monitoring System on the market for over a decade. With its robust technology and industry-leading ease of use, the SystemSURE Plus meets the demands of the largest and smallest companies across the globe.
The EnSURE Touch is a comprehensive system, designed to revolutionise both flexibility and ease of use. It features a 5-inch touch screen, wireless sync technology, cloud-based software and the ability to conduct a wide range of tests. As a result, it is the most versatile ATP Hygiene Monitoring system on the market. It can adapt to your workplace and provide everything you need to support a comprehensive risk management programme.
Both Systems use a luminometer and a sample swab to effectively measure the various ATP levels on a surface. In addition, we offer the UltraSnap, SuperSnap, AquaSnap Total and AquaSnap Free sampling tests to undertake the ATP Hygiene Monitoring process.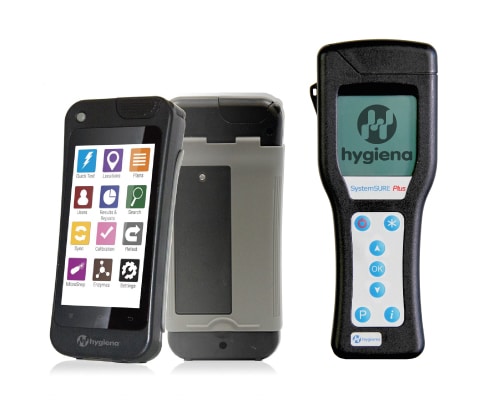 Where to use an ATP Hygiene Monitoring system?
ATP Hygiene Monitoring can be used in any number of industries to verify the cleaning process has taken place correctly. These industries include, but are not limited to:
Food and Beverage

Food Services

Healthcare

Hospitality

Water Quality

Veterinary & Pet Care

Personal Care & Cosmetics

Industrial & Environmental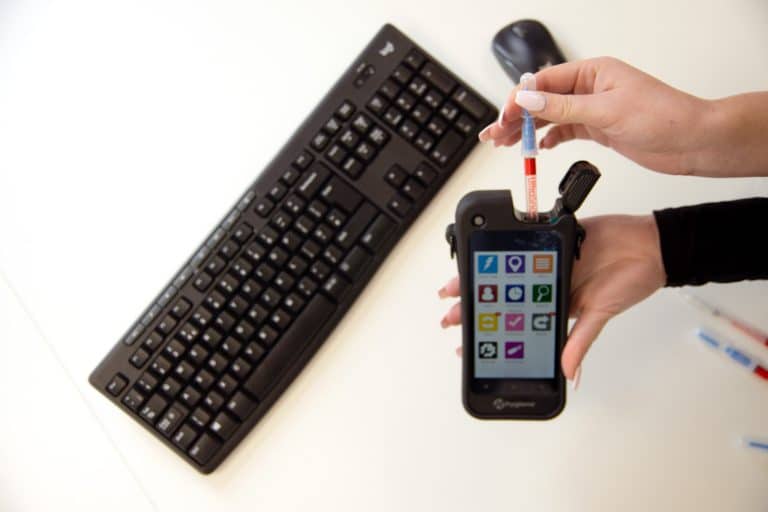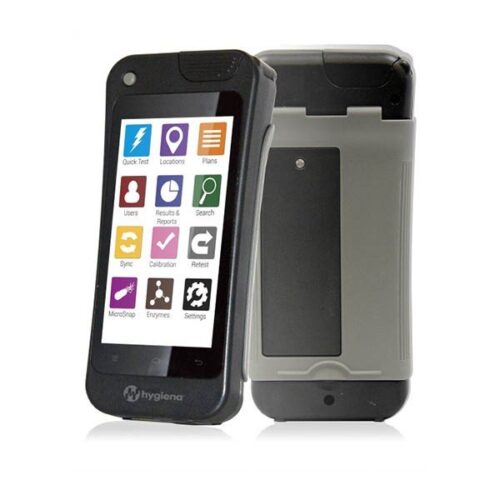 Hygiena EnSURE™ Touch
Next-generation touch screen quality monitoring system
£

1,315.00
The EnSURE Touch is an advanced monitoring system that collects, analyses and reports data from various trusted quality test devices. Results in 10 seconds. Providing rapid and accurate sanitation verification data. The system features an intuitive smartphone design for a user-friendly system, and Enzyme test devices for multiple food safety and quality tests. This system is mostly used in the food & beverage and hospitality industries.
Add To Basket
Visit our ATP Hygiene Monitoring page to learn more about the process, or visit the Hygiena website to discover their full portfolio of products.
Enquire
"*" indicates required fields