Sychem and Steelco have worked together since 2008 to support various facilities across the UK. Steelco is a leading Italian manufacturer of equipment & systems for the washing, disinfection, and sterilisation of medical instruments, glassware, cages, and bottles. Together, we operate in the Healthcare, Laboratory and Life Science industries, offering complete and customised solutions to our clients.
Who are Steelco?
Steelco SpA is an Italian company leader in the production of devices and apparatus for the cleaning, disinfection and sterilization specifically designed for the medical, laboratory, research and pharmaceutical industries. Steelco manufactures devices which are able to: Reprocess medical devices used in outpatient, surgical and endoscopic environments; Maintain laboratories and research environments protected against the risk of cross contaminations and to offer productive solutions for the sanitisation, sterilisation and maintenance of animal rooms; Serving the global pharma industry with washers and sterilization system, compliant to cGMP documentation and dedicated to production materials and end-products; Effectively manage the cleansing and sterilization of laboratory glassware through highly versatile solutions. Steelco offers to its clients complete and customized solutions.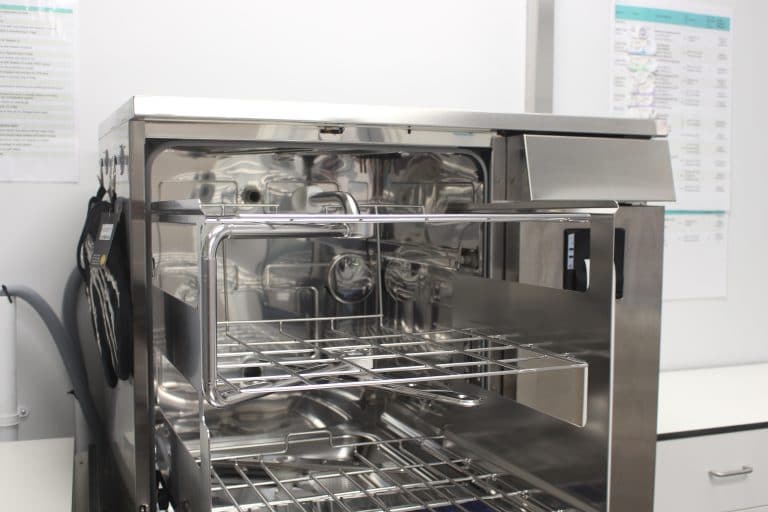 Where does Steelco operate?
Part of the German Miele group, Steelco S.p.A are recognised internationally for their washing and disinfection equipment, undertaking projects in over 100 countries including the USA, Mexico, Spain, France, Germany, Denmark, Belgium, Holland, Norway, Hungary, China. With a strong inclination for the foreign markets but still, with a production made 100% in Italy, Steelco represents excellence within the industry- here at Sychem, we are incredibly proud of our partnership with them.
What does our partnership entail?
We are the exclusive UK partner for the provision of washing, disinfection, and sterilisation equipment to the life science industry. We also provide equipment to private healthcare, NHS Pathology, and a vast range of research facilities across the UK. Our partner Steelco provides a range of products available for use across the three sectors. Steelco operates 50% in healthcare, 12% in Life Science and 10% in Laboratory, with almost 75% of their marketing areas being the ones that we at Sychem directly work in. Our product portfolio showcases a variety of washers and autoclaves, including Instrument washers, steam sterilisers and low temperature sterilisers to private healthcare and NHS Pathology services setting across the UK.
Towards the end of 2021, our board of directors took a trip to visit our partners Steelco Group in Italy, and discussions took place about our shared achievements this year and forecasts for the future.

Our full range of equipment includes:
We offer an extensive range of equipment with our partner Steelco, and Sychem are the number one supplier of Decontamination equipment to Private Healthcare facilities in the UK.
Washers:
Instrument washer disinfectors
Trolley washer disinfectors
Ultrasonic washers
Glassware washer disinfectors
Large range and automated tunnel washer
Autoclaves:
Steam sterilisers
Low temperature sterilisers
Steam sterilisers for Laboratory
Steam sterilisers for Life Science
Click to see our extensive range of autoclaves and washers to see which would be the best fit for your facility, visit the Steelco webpage to discover more.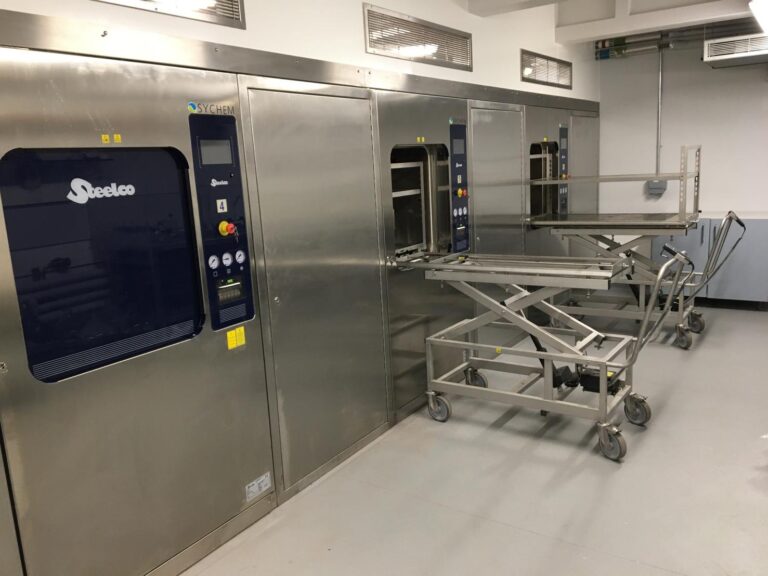 Sychem Projects and Steelco 
At Sychem, we are incredibly proud of our talented Projects department, who work to create fully customisable solutions, based on the requirements of your facility.
We take care of our clients from the start of their journey to the end, with the help of our fantastic Projects Department. One of our core services is the Installation, Commissioning and Validation of Capital equipment from our extensive portfolio in various industries.
When working with our Projects Department, a dedicated Project Manager will be assigned to work alongside your team along with our Sales Executives to understand your requirements and convert your enquiry into a technical proposal for review and manufacture. In addition, we perform detailed surveys of your site, ready to transform your facility with a bespoke, space-efficient layout. This can be tailored to integrate with existing equipment based on the requirements of your process.
Enquire
"*" indicates required fields