We are delighted to share that on Monday, the 3rd of October 2022, Sychem received a special visit from the Lord-Lieutenant and Deputy Lieutenant of Hampshire to our head office in Southampton.
This visit was in recognition of Sychem's achievement of the

Queen's Award for Enterprise

, which was announced on the 21st of April 2022, and were presented with the official certificate of the Queen's Order in a presentation with all of the Sychem staff yesterday.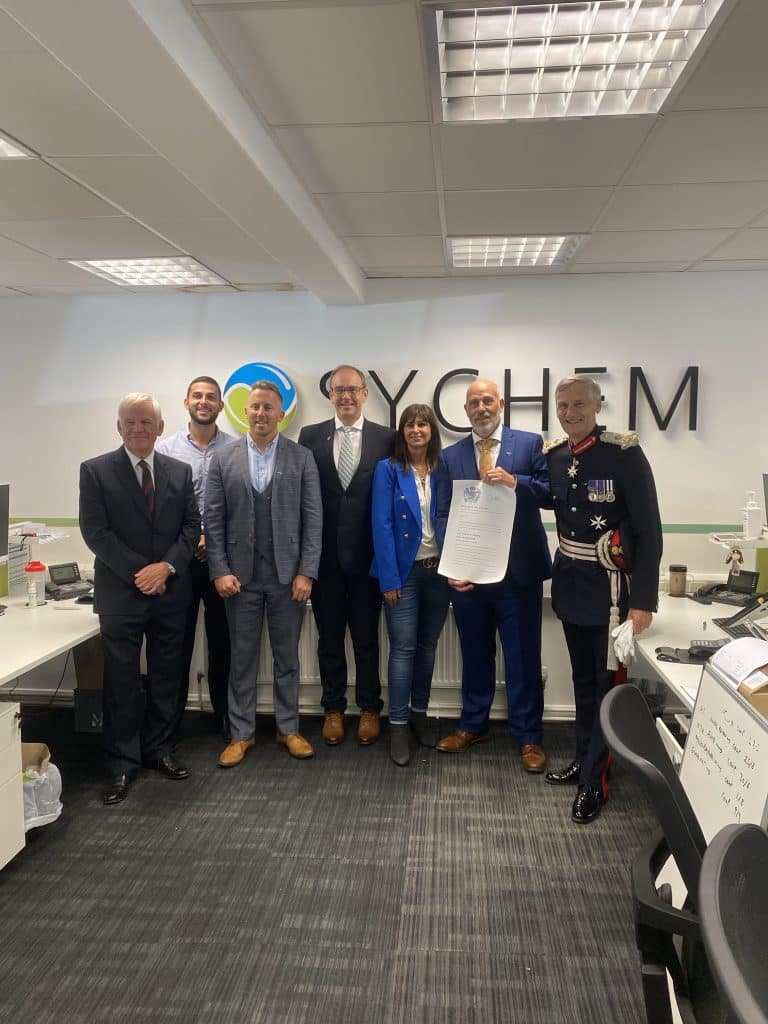 Sychem wins the Queen's Award for Enterprise 2022
Sychem Ltd was announced as a winner of the Queen's Award for Enterprise 2022, for outstanding work in the International Trade category.
Sychem is one of only 225 organisations nationally to be recognised with a prestigious Queen's Award for Enterprise, Sychem has been recognised for excellence this year.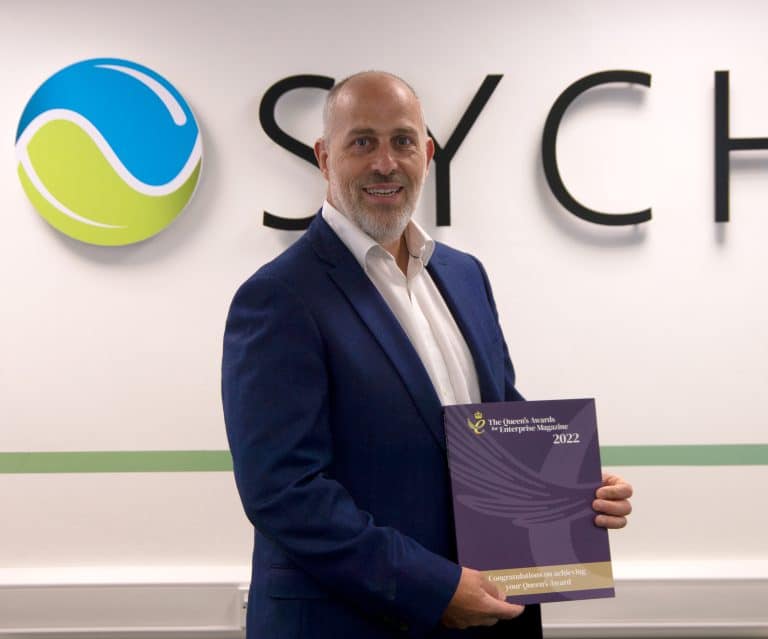 A historical moment
The Lord-Lieutenant of Hampshire was kind enough to visit the Sychem head office in Hampshire to meet our staff members, tour the facilities and to present the first Queen's Award for Enterprise 2022 on behalf of his majesty King Charles III.
What is the Queen's Award for Enterprise?
The Queen's Awards for Enterprise are the most prestigious awards.
The awards are given to UK businesses every year in recognition of outstanding achievements in four different categories: international trade, innovation, sustainable development and promoting opportunity through social mobility.
Who are Sychem?
With over 60 employees, Sychem are experts in decontamination, sterilisation and disinfection. We are a main supplier of decontamination equipment, infection control consumables, chemicals and equipment- including servicing, validation, and testing to a diverse range of sectors.
Sychem works with several industries, including Private Healthcare, Laboratories and Research, Veterinary, Dental and many more.
We work in a prestigious partnership with the Italian manufacturing giant Steelco S.p.A to provide Decontamination equipment. Sychem and Hygiena work to offer an extensive range of ATP Hygiene Monitoring devices and swabs. We also work in UK exclusive partnership with Terragene to provide a diverse portfolio of infection control tests and validation consumables.
We are immensely proud to be supporting the Ministry of Defence internationally with contracts around the globe.
Our own UK manufacturing is now represented in over 50 countries worldwide.
To win the Queen's Award for Enterprise for International Trade is a sensational achievement for everyone at Sychem, but none more so than Michael Barnes, our CEO, who built Sychem into the remarkable company it is today.
What does this mean for Sychem?
This is a spectacular achievement for all involved and is an inspiration for all those amongst us. Our team will continue the outstanding work that has been carried out over these years!
Want to find out more about the Queen's Award for Enterprise? Visit the Gov webpage to know more.
Enquire
"*" indicates required fields