Sychem is delighted to announce the award of The Contractors Health and Safety Assessment Scheme (CHAS) accreditation. The CHAS accreditation is a SSIP and Common Assessment Standard founder member and recognised widely across the UK. A government-backed scheme, of which partners with some of the biggest and most recognisable brands, to ensure compliance across different areas of risk, as well as to mitigate supply chain risks and efficient supply chain management.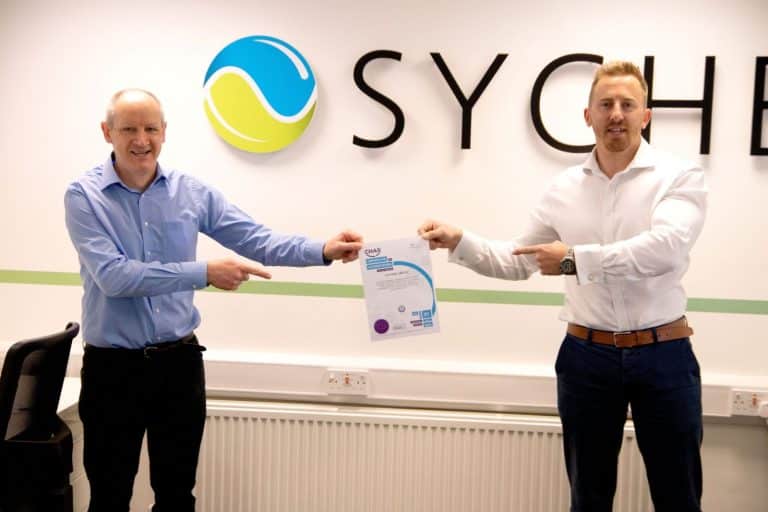 Managing Director Dan Harding went on to say, "This is an exceptional achievement and a true demonstration of how important health and safety is to the Directors of Sychem. Working on more and more multi-million pound projects with an ever-growing workforce means that our approach and consideration to safety is paramount to the companies continued success and safety record."
What is CHAS?
CHAS helps clients (buyers) and contractors (suppliers) ensure compliance across the different areas of risk management, and mitigate risks across the supply chain. Offering accreditation schemes that can help businesses achieve compliance, mitigate supply chain risks and support efficient supply chain management.
With the new Common Assessment Standard, CHAS review all aspects of risk management policies in a single annual audit. CHAS is also one of the founding members of Safety Schemes in Procurement (SSIP), and CHAS is committed to setting health and safety benchmarks that drive industries forward and make the world of work a safer place.
About the SSIP Forum
Safety Schemes In Procurement (SSIP) was founded in May 2009 following the Government report on Accelerating the SME economic engine: through transparent, simple and strategic procurement. Supported by the HSE, SSIP aims to streamline prequalification and encourage straightforward mutual recognition between its Member Schemes.
All assessments completed by our Member Schemes (in Sychem's case CHAS) are completed utilising the SSIP Core Criteria which is aligned to the Government-backed construction pre-qualification document PAS 91, ensuring consistency within supply chain management.