At Sychem, we are experts in
infection prevention and control

, providing a complete portfolio of consumables for use in a wide range of industries.
We work in partnership with Terragene, Hygiena and Airgle to offer a wide variety of products, including ATP Hygiene Monitoring, Protein Residue Testing, Air Purification devices and many more!
What is Infection Control? 
Infection control is the process of preventing or halting the spread of infection. 
Implementing infection control practices is a requirement in Healthcare settings to reduce the spread of Hospital-acquired infections (HAIs). However, there are many different sectors where infection control purposes are necessary.
Some sectors that implement infection control procedures include (but are not limited to):
Food processing

Healthcare sterile service departments

Dental clinics

Veterinary practices

Tattoo & piercing parlours

Pharmaceutical

Diagnostic laboratories
What are Transmission pathways? 
Transmission pathways are the route that a microorganism (a bug or germ) uses to travel from one location to another.
By using our range of infection control consumables, the transmission pathway becomes disrupted, meaning that the microorganism is unable to continue its route. By interrupting transmission pathways, the spread of infection is stopped, and the risk of disease is lowered.  
There are four main transmission pathways, and these are:
Hands/skin

Surfaces

Water

Air
Sychem strives to assist facilities in the continued fight against infection.
Disinfection specialists 
We are experts in disrupting key transmission pathways, via the use of our disinfection and cleaning chemicals. We also tackle key transmission pathways via the use of our decontamination equipment, such as autoclaves and washers. 
Our complete portfolio of infection control consumables ensures that procedures are maintained, and that performance strictly adheres to any regulatory guidelines. The performance of processes is crucial to ensuring the quality and conformance of any sterilisation or decontamination process.
Terragene partnership 
Sychem are proud to be the UK exclusive partner for the infection prevention giant Terragene. 
Based in Argentina, Terragene have offered complete solutions for infection control since 2006, supplying to over 70 countries worldwide. Our extensive range of infection prevention devices includes:
While Terragene's products can be applied to a range of sectors, they are predominantly used within the Healthcare industry. 
Offering an extensive portfolio of consumables to Private Healthcare, NHS Pathology, NHS hospitals and other medical facilities, some of our most popular products include the Trazanto, the MiniPRO and Bowie Dick tests. 
The MiniPRO is a favourite in Healthcare settings. It is a protein residue test focusing on certain types of protein commonly present in blood, and is an essential part of a hospital sterile services regulatory compliance. 
The Bowie Dick tests are chemical indicators used to confirm the sterilisation or decontamination process in compliance with Health Technical Memorandum. 
The Trazanto is a traceability device used to improve efficiency and accuracy in Central Sterile Service Departments (CSSDs). It works as a simple and accurate analysis device for chemical and washing indicators, harnessing an artificial intelligence (AI) system that goes beyond human capabilities.
Hygiena partnership 
Sychem and Hygiena have worked in partnership since 2004 to offer an extensive range of ATP Hygiene Monitoring devices and swabs.
Across all industries, there is a universal need to measure the effectiveness of cleaning practices ensuring that businesses can operate correctly and safely. Contaminated surfaces and equipment can lead to rapid microbial contamination, which ultimately leads to the infection of patients and personnel.
By conducting ATP Hygiene Monitoring, it provides accurate results that define, monitor & maintain cleaning standards within a facility. A sample is taken with a special swab, which can be found on our Sychem Shop, inserted into one of our ATP Hygiene Monitoring systems, and a numerical value is returned.
Our full range of ATP testing swabs and devices includes: 
ATP Hygiene Monitoring can be used in various industries to verify the cleaning process has taken place correctly. These industries include, but are not limited to, Food and Beverage, Food Services, Healthcare, Hospitality Water Quality, Veterinary & Pet Care, Personal Care & Cosmetics, Industrial & Environmental.
Airgle partnership
Airgle and Sychem partnered in 2022 to offer a range of Air Purification devices, designed for use in various industries. 
Airgle are an American company established in 1999 to purify AIR with a Great Level of Efficiency. 
Airgle has mastered the art of air purification by perfecting modern design with high performance for an exceptionally effective system. As industry pioneers, we offer unsurpassed quality and design to keep you and your family breathing better, for the ultimate peace of mind.
Sychem offers the AG300, AG600 and the AG900– Air Purification devices with market-leading design features. 
The benefits of Airgle's systems include:
System Efficiency- The Airgle systems feature unique, 100% pressure sealed technology with no air bypass. The highest reading that an air purifier can ever achieve on a particle counter test is zero- and Airgle has done it!
Particle Filtration- Airgle's cHEPA filtration provides the superior removal of airborne particles. Certified to filter ultra-fine particles down to 0.003 microns, and with an efficiency rating of over 99.999%, Airgle systems deliver exceptional performance. 
Powerful Airflow- The Airgle systems are up to six times more powerful than typical Air Purifiers. They deliver up to 462 rated CFM, the most potent airflow rating known in residential Air Purifiers.
Molecular Control- In addition to removing particulate pollutants, the Airgle Air Purifiers effectively remove molecular air pollutants such as volatile organic compounds (VOC's), gaseous chemicals and unpleasant odours. 
Biological Control- The Titanium Pro module removes chemical gases and destroys harmful organisms like bacteria and viruses. Airgle uses breakthrough titanium catalyst technology, paired with a germicidal lamp. This kills germs down to 0.001 microns in size.
Easy to use- Simply plug it in and choose a speed setting. The Advanced Control System has a large LCD screen to make operation hassle-free. The LCD also alerts users when the air pollution level changes, or when the filters need attention. Filter replacement is as easy as can be!
Energy Saving- Airgle's systems have earned the Energy Star rating for low power consumption, and the standby power for all Airgle systems uses a mere 0.5 watts. To save even more power when the user goes to bed at night, press and hold the Auto button to turn off the screen. 
Metal Housing- All Airgle systems feature aluminium housing. Airgle's housing offers the ultimate durability, which is stronger than plastic and lighter than steel. Visually elegant and sophisticated, our design is versatile and adapts to any room in your house.  
To learn more about our full range of consumables, visit the Sychem infection control page.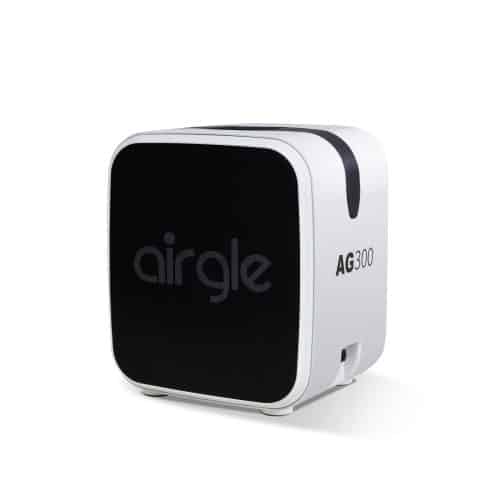 Airgle AG300
Our smallest room purifier offering 5 air exchanges an hour
The Airgle Small Air Purifier ‑ the compact AG300 was built to create 5 air exchanges an hour in rooms of up to 15 square metres.
Equipped with a cHEPA filter. The system features activated carbon and Titanium Pro technologies that remove airborne pollutants, such as dust particles, odours, second-hand smoke, bacteria, viruses, allergens and VOCs.
View Product
For more information about our partner's full range of products visit the Hygiena, Terragene and Airgle webpages.
Enquire
"*" indicates required fields