Sychem, winner of the
Queen's Award for Enterprise 2022

, are experts in Disinfection, Sterilisation & Decontamination.
For over 40 years, Sychem have been a leading provider of animal care solutions, services, and consumables, designed to support research facilities in providing the best possible conditions for animals in their care.
The Sychem Airflow Range
At Sychem, we offer the Airflow Range, a trio of workstations designed to assist research facilities by maximising animal welfare, protecting animal technicians and advancing biomedical research.
In addition, Sychem provides a comprehensive range of animal care solutions, services, and consumables to assist research facilities.
The Airflow Range is an array of UK manufactured workstations that spans animal transfer stations, bedding disposal units, and bedding dispensers.
The Airflow range is comprised of our SychemFILL, SychemCHANGE and SychemWASTE stations.
All three workstations are unique in their makeup and utilise Sychem's Active Airflow Technology to maximise protection for animals and users.
In addition, each workstation provides a range of ergonomic advantages to protect users in their daily routine.
Out and about
Machines from the Sychem Airflow Range can be found in various facilities, with hundreds of happy customers found across the UK.
The Sychem team recently visited King's College London, one of our most respected clients, to discuss how they were finding the SychemWASTE and SychemCHANGE machines that we installed previously.
The facility is a large, predominately rodent based, with a variety of research taking place into Deafness, Cancer, Alzheimer's, Parkinson's, Arthritis, Pain studies and more.
Claire, the Facility Manager and Named Animal Care and Welfare Officer (NACWO) at the Hodgkin building, oversees the unit on a day-to-day basis, ensuring that the animal husbandry work is undertaken, and making sure all research groups stay within the boundaries of their project licence and ASPA.
Now in her 18th year at KCL, Claire began working as an animal technician before advancing to Facility Manager.
A familiar face
In Claire's team there are seven staff members, including an auxiliary technician.
The staff at KCL have been using the SychemWASTE station for around a year now, and before they purchased the SychemCHANGE station, the team at KCL had many options and machines to consider.
When asked about why they decided to choose Sychem's services, Claire said, "We have been a previous customer of Sychem for autoclave servicing, and Ben Levy let us know about the SychemCHANGE station when we were looking at other models on the market.
However, we felt that the SychemCHANGE station fit our needs best. It was the same with the SychemWASTE station; our auxiliary staff member looked at a few different ones, but ultimately decided the Sychem product was the best available at the time."
Sychem Waste
SychemWASTE is a flexible bedding disposal station, designed to ensure the safe disposal of laboratory animal bedding- a mandatory requirement of any animal facility to protect technicians against laboratory animal allergens (LAA'S).
As standard, SychemWASTE comes with one stainless steel chute, one bin and trolley, a knockout bar, three-stage H14 HEPA filtration, a magnetic scraper, and a left side handle.
We also offer the optional add-on of the double chute and sliding worksurface, offering users the chance to save time by swapping bins out less frequently, and an increased choice of user configuration.
The client opted for the double chute option with a second bin in this instance.
Claire and her team thoroughly enjoy using the machine; she said, "Choosing the two bin option seemed the most time efficient, and this has proven to be true when in use. Both allow you to continue working for longer before having to empty the bins!"
When discussing the advantages of the double chute option, Claire said, "I like having the two chute option as you can run both simultaneously and empty both together- it makes it really easy to use.
It is simple to access a fresh bag to fill it up as well, and when I work in there, I like to use the two bins. The product design allows for easier cleaning of the machine."
The double chute option is not the only benefit that the staff at Kings College London found; Sychem's Waste station also offers ergonomic excellence and unrivalled cleanability.
Domaine, an auxiliary technician at the facility, has worked for Kings since 2018.
He uses the SychemWASTE machine daily, and used to use the device that was there previously; he said, "I find the machine easier than the old one, as you have two sides, the left and the right, this one is much easier to clean and incredibly easy to assemble.
At the end of each day, what I like to do is I take it apart, disassemble it, put it in the rack washer to wash them, which is really easy for me."
While Claire opts to use both bins for the waste, Domaine found another unique use for the second bin- using it as a storage space for the bags!
When discussing other benefits of the machine, Claire said, "the magnetic scraper is a great idea and prevents it from being lost!"
SychemCHANGE
SychemCHANGE is a dual access animal transfer station designed to protect animals from the external cage environment and users from allergens, dander and potential pathogens. The change station utilises Active Airflow Technology to create a fully functioning machine.
At Kings College, the SychemCHANGE station is not used for daily functions; instead, they have it for training aspects.
However, facility Manager Claire said, "we have it so when people come to do their Home Office personal licence, it is done within a real environment with a change station, which is what they would do if they stayed working with us- rather than it just being on a benchtop.
It also helps with the biosecurity of our animals, rather than having them in an open environment in a  procedure room."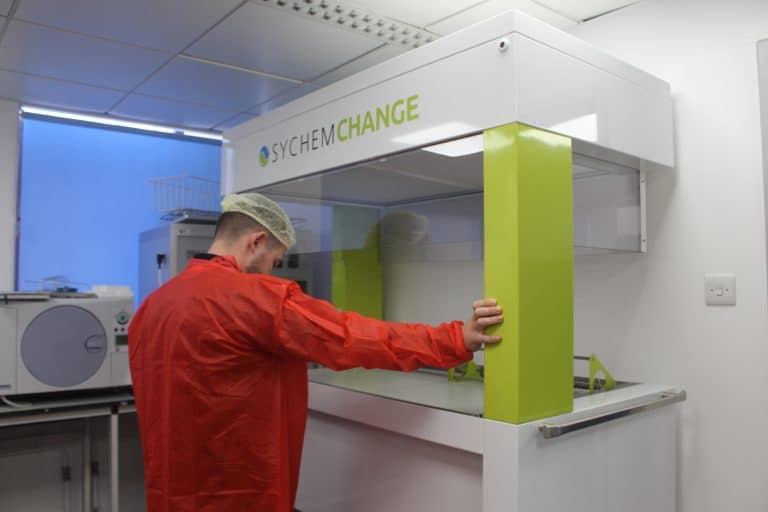 A future with Sychem?
Sychem offers an extensive portfolio of equipment, servicing, consumables, chemicals and more, supplying to many clients.
Claire at Kings recommends Sychem's services; she said, "Ben is very helpful, very responsive when I have queries and deals with them in a timely manner. There is a good product range, and I also purchase various disinfectants.
Colin Blank is a fantastic engineer that I would recommend."
Discover how Sychem can support your facility today!
To find out more about what Sychem has been up to recently, head on over to our LinkedIn.
Enquire
"*" indicates required fields