Sychem and Steelco have been partners since 2008, working together to serve private Healthcare facilities with a comprehensive range of products and solutions including an extensive selection of medical autoclaves.
Part of the German Miele group, Steelco S.p.A is recognised internationally for its washing and disinfection equipment, undertaking projects in over 100 countries including the USA, Mexico, Spain, France, Germany, Denmark, Belgium, Holland, Norway, Hungary, and China.
Providing outstanding solutions to facilities across the world, Steelco and Sychem offer a diverse range of medical autoclaves for private healthcare facilities.
Small Capacity Medical Autoclaves
We offer a comprehensive selection of small-capacity autoclaves for use in private healthcare SSD and decontamination services units. Our small range is designed for processing 1 or 2 STU per cycle with each model of steam steriliser being characterised by design, strength and safety to offer the perfect solution for small facilities.
Process speed and low media consumption make these autoclaves ideal devices for "fast track" sterile processes in large central sterilisation supply departments. We also offer a compact tabletop autoclave, the VS 1 TT, which features a single, manual door horizontal sliding left with a capacity of 1 STU.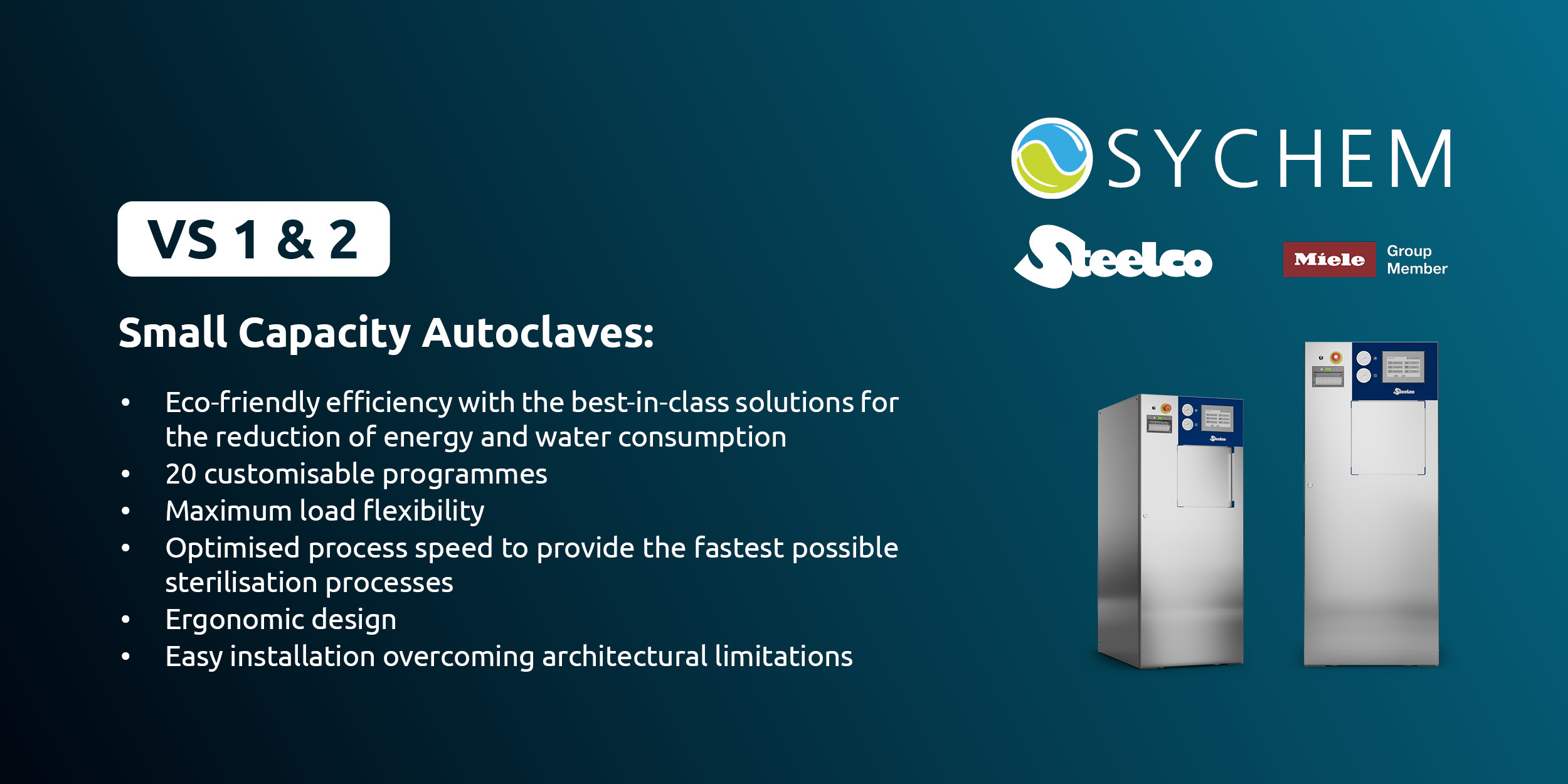 Large Capacity Medical Autoclaves
Together we also provide a full range of high-capacity steam sterilisers for use in private healthcare CSSD and decontamination service units which range from small facilities to large central sterilisation supply departments.
With reduced energy and water consumption giving users the lowest operating cost per load, our large capacity VS range offers the best-in-class solutions processing up to 18 STU per cycle.
All autoclave chambers are made of AISI 316L stainless steel and are entirely covered by a high-efficiency jacket which ensures fast heating and reduced cycle times providing even heat distribution and reduced electricity consumption for heating and cooling.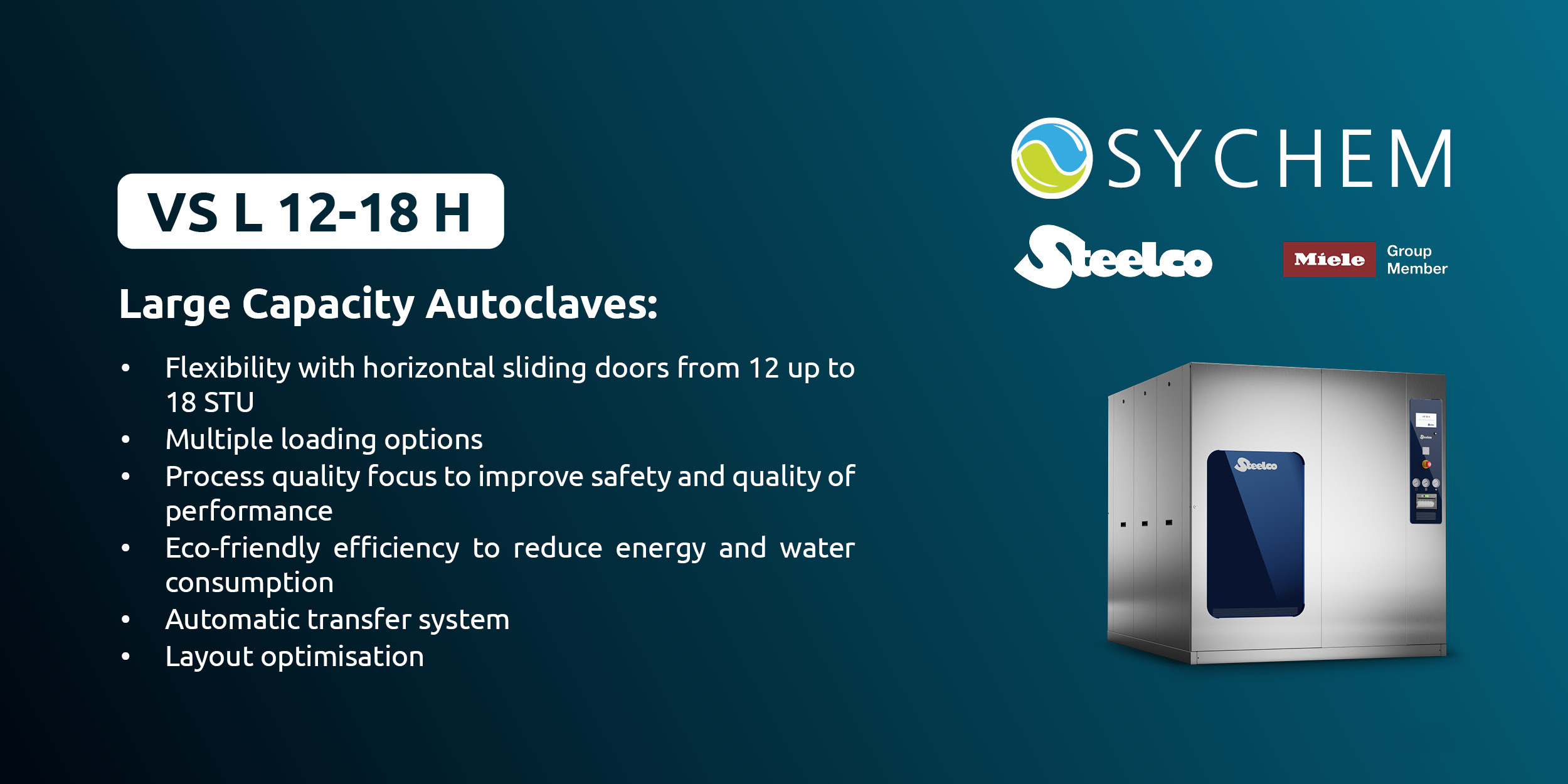 Low-Temperature Sterilisers
Accommodating small to large hospitals, we also offer a range of low-temperature sterilisers which work to sterilise medical devices in a dry environment using vaporised hydrogen peroxide.
The PL Series offers flexible configuration with adaptable load capacity in double or single-door versions, workflow optimisation, full safety and environmental protection. Perfectly balancing sterilisation effectiveness and ensuring the delicate handling of instruments, the PL series makes for the ideal solution for your facility.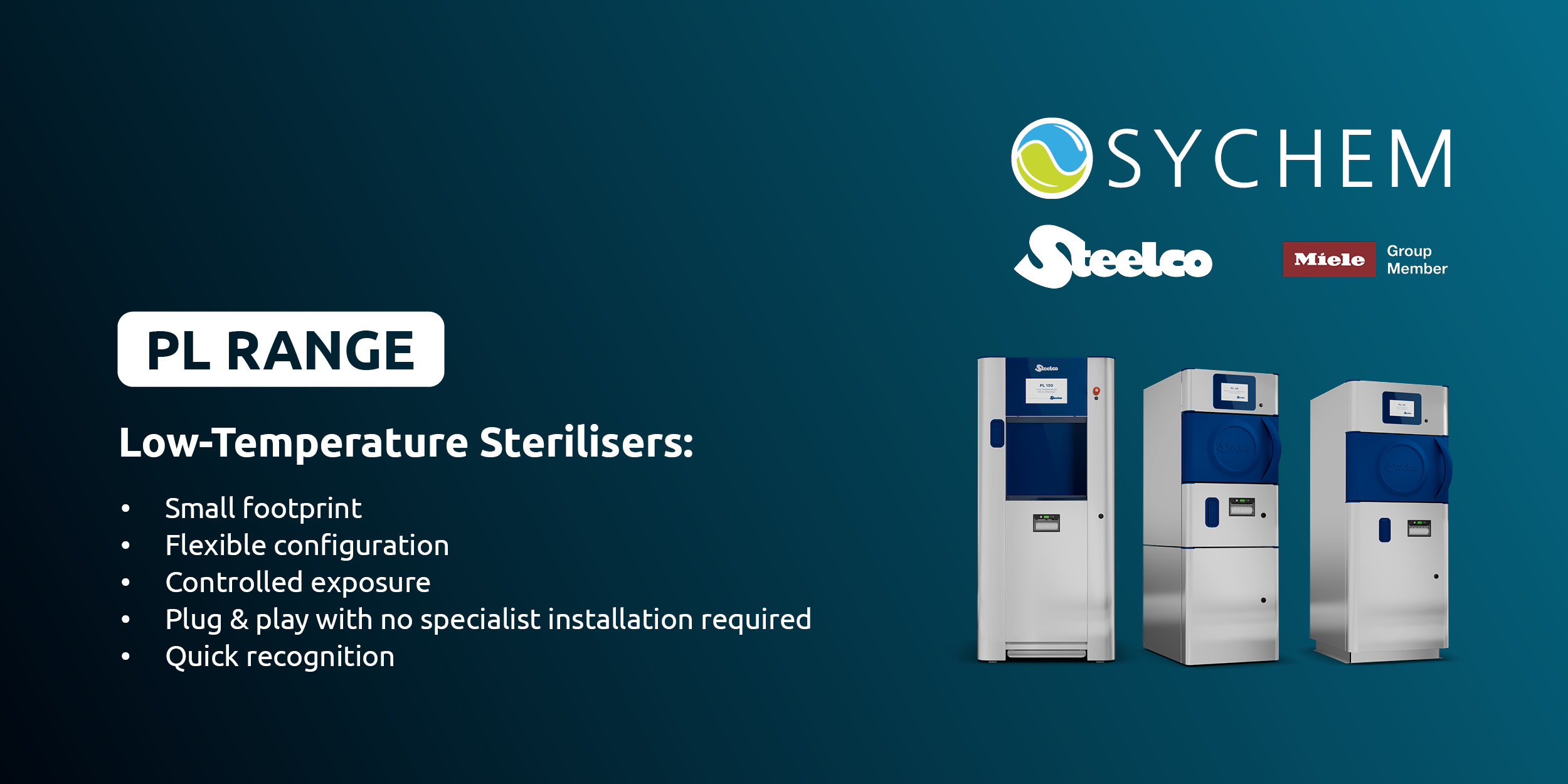 Sychem Projects and Steelco
When working with our Projects Department, we will allocate you to one of our expert Project Managers who work very closely with our fantastic team of Sales Executives to understand your requirements.
Together, the team will work to provide you with a detailed technical proposal for your medical autoclave installation ready for review and manufacture.
Your designated Project Manager will perform detailed site surveys to prepare your new or existing facility with a bespoke, space-efficient layout for your capital equipment installation.
Designs can be tailored to integrate with current existing equipment based on the requirements of your facility. In addition, our team will undertake detailed planning and coordination to maximise your facility's throughput.
Supported by an incredible team of Project Administrators, an expert Installation team, and Specialist Validation Engineers, your dedicated Project Manager will work closely with the installation team to track the progress of your Healthcare equipment installation.
Equipment Servicing for Medical Autoclaves
Ensure your equipment continues to operate efficiently with our variety of customisable equipment services and planned preventative maintenance (PPM) plans.
With a team of 30+ engineers based across the UK, Sychem ensures that your equipment continues operating at its highest possible potential with weekly, quarterly, biannual and annual testing (testing requirements depend on the industry of operation).
Our services include the service and planned preventative maintenance (PPM) of equipment, validation & testing, refurbishment and emergency breakdown support.
Want to learn how Sychem can help support your private Healthcare facility by providing you with industry-leading products, solutions and servicing? Get in contact today! We look forward to hearing from you. 
Enquire
"*" indicates required fields