There are many different methods of disinfection, including chemical disinfection, thermal disinfection and more.
The role of disinfection is to rid the surface of bacteria, a process that Sychem's team of experts know much about.
For years, facilities have favoured the chemical
disinfection process

, but we are ready to offer our clients the latest and most efficient form of disinfection.
Explore the thermal disinfection process
Here at Sychem, we offer the smartest and safest options for Disinfection. Our product range includes a variety of chemical disinfection consumables and a range of capital equipment, manufactured by our partner Steelco S.p.A, that offer a Thermal Disinfection process. For years, facilities have favoured the Chemical disinfection process, but we are ready to offer our clients the latest and most efficient form of Disinfection.
Steelco and Sychem have worked in partnership since 2008 to offer an extensive portfolio that spans washers, autoclaves and more.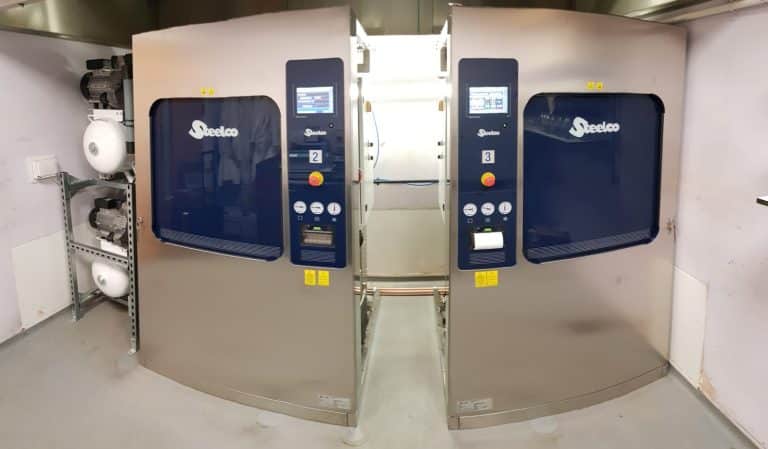 What is the process of disinfection?
Disinfection is the process of eliminating almost all pathogenic microorganisms from a surface, via the use of either chemicals or heat. The disinfection process is essential in the Healthcare, Laboratory & Life science sectors and many more. Nosocomial infections such as the Norwalk virus, MRSA, and various others affect hundreds of thousands of people globally every year. By carrying out the disinfection process correctly, it considerably lowers the risk of infection.
In the past, the disinfection process used chemicals to rid a surface of bacterial microorganisms, however there are other ways to disinfect, including a technique called Thermal Disinfection.
What is thermal disinfection?
The thermal disinfection process takes place when using moist heat to kill bacteria and viruses, by exposing them to a specific temperature for a set amount of time. The high-temperature process of Thermal Disinfection can destroy the proteins in bacteria- as the live proteins cannot withstand heat exposure of this kind. This results in the live proteins being destroyed, thus rendering the bacteria lifeless and inert.
Why use thermal disinfection?
Thermal disinfection is a safe and secure process used by a range of industries, including hospitals, vets, dental clinics, and care homes to ensure the safety of both patients and healthcare workers. Instead of using a chemical disinfectant, this process ensures no harmful chemicals are left on the medical equipment and reduces the risk that comes with handling dangerous chemicals.
Using the process of Thermal Disinfection also improves the compliance of infection control and can destroy many types of bacteria, making it ideal for use in the Healthcare industry. The use of our Steelco autoclaves when undertaking the disinfection process prevents the risk of cross-contamination and lowers the risk for the health workers using the instruments.
Can you carry out manual thermal disinfection? 
If users attempt to carry out manual thermal disinfection, it is incredibly difficult to determine if the items have been successfully disinfected or not. Without the use of a washer disinfector, there is no way to guarantee that the steam has been at the correct temperature for the correct about of time. In addition, the production of steam in the open air can also assist in spreading bacteria.
To monitor Infection Control levels, it is not recommended to attempt thermal disinfection manually.

Our diverse range of Steelco autoclaves use thermal disinfection to rid equipment of pathogens and bacteria, without the use of potentially harmful and dangerous chemicals.
Browse our range of Steelco washer disinfectors and autoclaves for use in various industries, and find out more about our partnership with Steelco.
Can't find what you're looking for? Disocver Steelco's complete portfolio of Decontamination equipment for use in Medical settings on their website.
Enquire
"*" indicates required fields