Dan Harding,
Sychem's Managing Director,

provides insight on achieving good hygiene and reducing the transmission of Covid-19 in gyms and leisure facilities.
How to practise good hygiene?
With gyms and leisure centres opening their doors and a flurry of customers looking to catch up on lost exercise time, it will be crucial for business owners to focus on reducing the spread of coronavirus (COVID-19).
The reopening of these facilities will allow the transmission pathways of the virus to cause further disruption and risk to people across the country. This will be a complex and challenging problem that needs to be front of mind for businesses and employees.
Current guidelines and transmission data from the World Health Organization (WHO) suggest that the virus spreads between people through direct contact, indirect contact through contaminated surfaces or close contact through mouth and nose secretions, such as coughs or sneezing. People who are within one metre of an infected person are at risk of catching Coronavirus from infection droplets getting into the mouth, nose or eyes.
This is a worrying concern for many leisure facilities worldwide. To avoid contact with these droplets, it's important to maintain social distancing, thoroughly and frequently clean hands, and cover the mouth when sneezing or coughing.
You can read the full article here.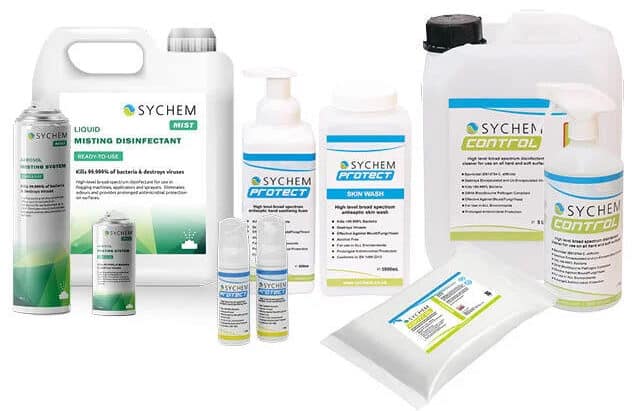 How can Sychem help your business prevent the spread of harmful bacteria and viruses?
Sychem provides a broad range of hand sanitisers and disinfectants, as well as a variety of other innovative infection control solutions too- all designed to help prevent the transmission of harmful bacteria and viruses.
From healthcare to laboratories, food processing to veterinary science, Sychem disinfection solutions are formulated with a proven chemical technology safe to use in associated food, animal, and human environments.
Shop our range of hand sanitisers, disinfectants and hygiene monitoring systems – all designed to help prevent the transmission of harmful bacteria and viruses. Ideal for use in food preparation areas, care homes, hospitals, laboratories, and even your own home — where high standards of cleanliness are essential.