After the Covid-19 Pandemic took the world by storm in 2020, ensuring the continued practice of good hygiene is crucial.
Mask-wearing became the law and staying inside was the new normal in an attempt to slow the virus.
With the offer of disinfectants, hand sanitisers and more, Dan Harding,
Sychem's Managing Director,

offers his insight on achieving good hygiene and reducing the transmission of Covid-19 in gyms and leisure facilities.
Why is it important to practise good hygiene?
Practising good personal hygiene is one of the most effective ways to protect yourself from getting infectious diseases, such as CFovid-19, colds and the flu. By washing your hands with soap, it removes the germs that pose a risk to making you ill.
The act of maintaining good personal hygiene will also assist in the prevention of spreading diseases to other people.
Those with poor personal hygiene provide an ideal environment for germs to grow, leaving them vulnerable to infection.
How to practise good hygiene?
Whilst there are a number of high-risk environments for Covid-19 to become rife, gyms and leisure centres are amongst the highest due to the nature of the business. In gyms and leisure centres people exercise which causes them to sweat, they use a variety of apparatus and equipment and ultimately create an ideal environment for coronavirus to spread.
With gyms and leisure centres opening their doors and a flurry of customers looking to catch up on lost exercise time, it will be crucial for business owners to focus on reducing the spread of Coronavirus (COVID-19).
The reopening of these facilities will allow the transmission pathways of the virus to cause further disruption and risk to people across the country. A complex and challenging issue, the effects that the Pandemic has had should be at the front of mind for businesses and employees.
Current guidelines and transmission data from the World Health Organization (WHO) suggest that the virus spreads between people through direct contact, indirect contact through contaminated surfaces or close contact through mouth and nose secretions, such as coughs or sneezing.
People who are within one metre of an infected person are at risk of catching Coronavirus from infection droplets getting into the mouth, nose or eyes.
This is a worrying concern for many leisure facilities worldwide. To avoid contact with these droplets, it's important to maintain social distancing, thoroughly and frequently clean hands, and cover the mouth when sneezing or coughing.
You can read the full article here.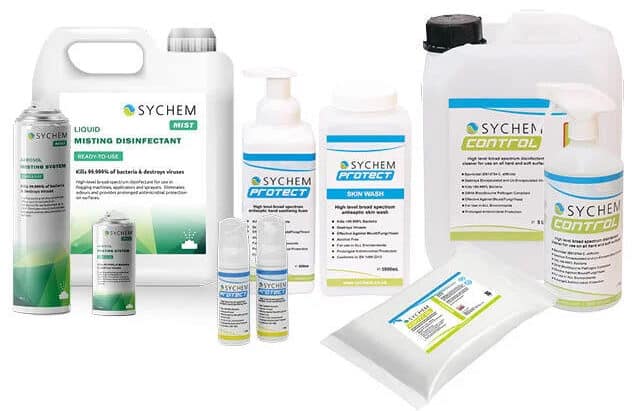 How can Sychem help businesses like yours prevent the spread of harmful bacteria and viruses?
Sychem are experts in Disinfection, Sterilisation and Decontamination, offering an extensive variety of chemicals, Infection Control consumables, Decontamination equipment and more.
Within our chemicals collection, we offer a broad range of hand sanitisers and disinfectants – all designed to help prevent the transmission of harmful bacteria and viruses.
From healthcare to laboratories, food processing to veterinary science, Sychem disinfection solutions are formulated with a proven chemical technology safe to use in associated food, animal, and human environments.
Shop our range of hand sanitisers, disinfectants and hygiene monitoring systems – all designed to help prevent the transmission of harmful bacteria and viruses. Ideal for use in food preparation areas, care homes, hospitals, laboratories, and even your own home — where high standards of cleanliness are essential.
Discover the SychemCONTROL wipes and trigger spray, and the SychemPROTECT hand sanitising solution and foaming hand wash. Both collections offer products in a variety of sizes, designed for your convenience.
To find out more about our complete range of Chemicals, Infection Control consumables, Decontamination equipment or more, please contact a member of our expert team today.