At
Sychem

, we are experts in disinfection, sterilisation and decontamination. We sell a variety of washing and decontamination equipment for Healthcare, Laboratories and Research facilities. We specialise in autoclaves that use steam sterilisation as a sterilisation method, manufactured by our Italian partner Steelco.
Steelco has developed a 'full range of high capacity autoclaves to get the perfect solution for any central sterilisation supply department.'
What is Steam Sterilisation?
The steam sterilisation process is achieved by exposing the items or instruments to be sterilised with saturated steam under pressure. The steam enhances the heat's ability to destroy microorganisms by reducing the time & temperature necessary to denature their proteins. The quality of steam required for the process is dependent on the application the sterilisation is being used for, and potentially which industry it is being used in.
Although there are many different methods available to undertake the sterilisation process, moist heat that forms saturated steam under pressure is the most common practice and the most dependable.
Where to use Steam Sterilisation?
Steam sterilisation via an autoclave can be used in various industries, including Healthcare, Laboratory, and Life Science. Each sector has different requirements when it comes to the necessary levels of sterilisation necessary to carrying out the day-to-day runnings of a facility. In the Healthcare sector, where steam sterilisation is used to process medical or surgical instruments, the steam used must comply with EN285 and the Health Technical Memorandum HTM01.01.
Other decontamination equipment, such as the ones found within Laboratories or Biomedical facilities, are not governed by legislative requirements. Therefore, the user has control over the type of steam necessary to process the desired result. Without a doubt, sterilisation conducted with clean steam is best practice but not always justifiable commercially. In these cases, process steam is utilised, which is produced using a lower grade of water, not RO water.
Steam Quality is ascertained through consideration to:
– The level of non-condensable gases present
– Steam Dryness
– Super Heat
The optimal composition of steam is 3% liquid and 97% gas—any change in the percentage of moisture increases or decreases sterilisation time. In practice, sterilisation time is calculated according to optimum steam conditions and steam's ability to transfer energy to the non-sterile load prior to sterilisation.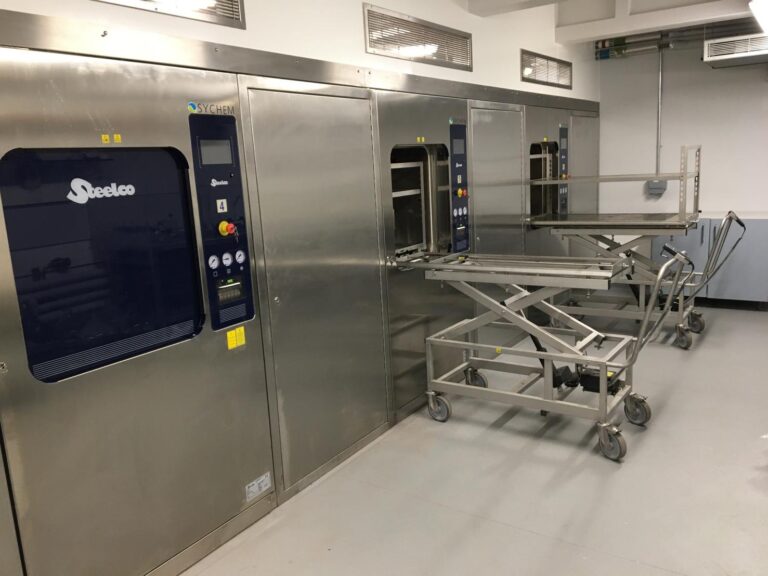 Benefits of using Steam Sterilisation:
The use of steam as a sterilisation method has many benefits, particularly when used in the Healthcare industry. Some of these benefits include:
– Low cost
– Safety
– Efficacy
When the steam sterilisation process takes place, the speed and productivity of a steam steriliser autoclave are advantageous over other methods of sterilisation. Medical equipment that can go through a steam steriliser includes surgical instruments, hospital bed frames and trolleys. It is essential that the CSSD staff follow the instructions from the manufacturer when using the device to undertake the sterilisation process.
At Sychem, our selection of steam sterilisers combines high productivity with cost efficiency, creating an effective solution to improve the economy of the CSSD.
Our steam sterilisers:
At Sychem, we offer a diverse range of steam steriliser autoclaves in a variety of sizes. All autoclaves are made by our partner, the leading Italian manufacturer Steelco. Our variety of autoclaves are the perfect option for many industries, with smaller steam sterilisers for Dental clinics and veterinary practises, and larger Sterilisers for Healthcare and pathology facilities with much larger equipment being used at a faster volume.
Read more about our wide selection of Autoclaves here, and decide which is the correct process of sterilisation for your facility.
If you have any further questions or would like to know more about purchasing an autoclaves, please enquire now.