A
protein detection system

monitors the results of a protein residue test to ensure that something has been cleaned properly.
At Sychem, we offer an extensive range of systems, designed to detect protein levels.
What is a protein residue test?
A protein residue test is a chemical test that is used to detect all levels of protein present on a process load, that cannot be seen by visual inspection.
The test is designed to look for a particular type of protein commonly present in the blood.
By undertaking these tests, users can detect residual proteins that are left on the surfaces of hard to clean surgical instruments.
Protein residue testing is an essential part of a hospital sterile services regulatory compliance.
Why use protein residue testing?
The point of the test is to ascertain whether there are any levels of residual protein left on the surface of a surgical instrument.
By carrying out a protein residue test after the washing/cleaning process has been completed, it informs users as to whether their equipment is performing correctly.
Essentially, the test is a process challenge device for capital equipment. If the protein detection system does not pick up any residual proteins, then the equipment is operating as it should be. If it does detect any proteins, then it is not functioning correctly.
What legislation is there regarding protein residue testing?
To achieve full compliance with the latest HTM 01 – 01: 2016 for the decontamination of reusable surgical instruments, evidence of good practices is required, including logging evidence of each protein residue test carried out within the decontamination department as proof of a traceable process. In addition, protein residue tests are essential to the day to day running of a sterile service department.
What protein detection systems are there?
While there are many protein detection systems on the market, none are as well versed as the Mini Pro and the PRO 1 MICRO by the Infection prevention Terragene.
Working in UK exclusive partnership, Sychem and Terragene offer a diverse range of infection control consumables, to ensure your processes are operating as they should be.
We offer:
MiniPro- Auto-reading incubator for protein residue testing
PRO1 MICRO- High sensitivity protein residue testing pens
PRO1 VT- Positive negative calibration control kit
What is the role of the PRO 1 MICRO and MiniPro?
This testing pen is designed to detect and quantify proteins, allergens and reducing agents with high sensitivity on surfaces and difficult-to-access areas after the cleaning process has taken place.
After taking a swab with the PRO1 MICRO, users can insert the swab into the MiniPro auto-reader for 10 minutes at 60 °, resulting in the incubation and quantitative readout of results.
The PRO 1 MICRO is a reactive solution and a high absorption swab, that allows the collection of samples from different types of surfaces with the same efficiency.
Specification of the PRO 1 MICRO
Pen diameter: 12.4 mm; Pen length: 161 mm; Swab length: 111.9 mm.
Limit of quantification: 1.0 μg of BSA.
Sensitivity: 0.3 μg of BSA.
Where to use a protein detection system?
While many different industries may benefit from implementing protein residue testing, it is most commonly used in Healthcare and other industries that use medical devices.
Although predominantly used to swab surgical instruments, protein detection systems can also be used in dental, food, pharmaceutical and many other industries!
More about protein residue testing!
Protein residue testing is a method used to measure levels of Infection Control in cleaning processes. With effective testing for proteins, you can locate potential issues with processes such as:
Complexity of instrument, loading patterns
Washer disinfector defects
Medical device defects
Human error issues in the manual cleaning processes
Pathway of set: Wet/dry time from surgery
As the PRO1 MICRO offers quantitative data, you can also witness a trend should your testing results show a steady increase in µg. Meaning you can prevent possible issues before they occur or progress to a larger scale concern.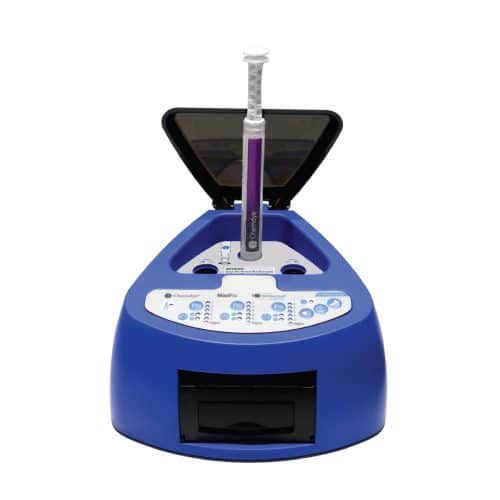 MiniPro
Auto-Reading Incubator for protein residue testing
Protein Residue Test, for incubation and quantitative readout of the Pen system - PRO1 MICRO for the detection of surface proteins and allergens.
3 positions for simultaneous incubation and results in 4 minutes. The test is used to detect residual levels of protein on the surface of a surgical instrument, that is not otherwise identifiable by visual inspection. Protein residue testing focuses on certain types of protein and is an essential part of a hospital sterile services regulatory compliance.
View Product
Can't quite find what you're looking for? Visit the Terragene website for more information!
Enquire
"*" indicates required fields