Process Challenge Devices

are used to assess the effectiveness of the performance of decontamination processes.
Found within the HTM01-01, the use of Process Challenge Devices is essential to comply with regulations found in the Healthcare sector.
At Sychem, we offer a complete portfolio of Process Challenge devices, designed to ensure your SSD (Sterile Services Department) continues running as smoothly as possible.
Process Challenge Devices are essential to ensure compliance with the HTM01-01 in sterile service departments within the Healthcare industry.
What is a Process Challenge Device?
Essential to the SSD's everyday operations, a Process Challenge Device is used to assess the effectiveness of the performance of decontamination processes. These devices do this by providing a challenge that is equal to or greater than the challenge posed by the most difficult to wash/ sterilise item routinely processed.
A Process Challenge Device is used for validation and routine monitoring of the efficacy of cleaning and sterilisation processes.
Where can Process Challenge Devices be used?
There are many different types of Process Challenge Devices, that are used to challenge processes within washers, autoclaves and other decontamination equipment.
These PCDs can be used in a variety of industries; however they are most commonly used in the Healthcare sector due to the regulatory nature of the HTM-01-01.
PCD- Chemical Indicators
Chemical Indicators are required to confirm the sterilisation or decontamination process has been successful.
A Chemical Indicator is used to challenge the sterilisation and decontamination process, and to check whether it has been undertaken correctly.
They are designed to respond to one or more conditions in the sterilisation chamber and are used as part of routine quality monitoring processes. Chemical Indicators can be used in a range of sectors, including Laboratory, Dental, Life Science and Healthcare.
We offer a diverse range of Chemical Indicators manufactured by our UK exclusive partner Terragene. Our portfolio includes:
BD125X/2 Bowie & Dick Test Pack
Helix Process Challenge Device
PCD-A-3.5BD Bowie Dick test for Helix-PCD systems
IT26SBL Chemical Integrator for steam
IT26-C Chemical Integrator for Steam
IT26-1YS Chemical Integrator for Steam
CT22 self-adhesive indicator tape for Steam
CD40 A Chemical Indicator for Hydrogen Peroxide
Bowie Dick test packs
One of our most popular Chemical Indicators is the BD125X/2 steam penetration Process Challenge Devices.
The Bowie-Dick test pack detects inadequate air removal and steam penetration in vacuum-assisted steam sterilisers.
Type 2 Chemical Indicator
Initial Colour: yellow
Final Colour: dark brown/black (should change homogeneously in the whole sheet)
Size: 16 mm x 125 mm x 125 mm (approximate)
Assembly: permeable barriers- 1 silicone paper – 1 test sheet – permeable barriers. Wrapped with crepe paper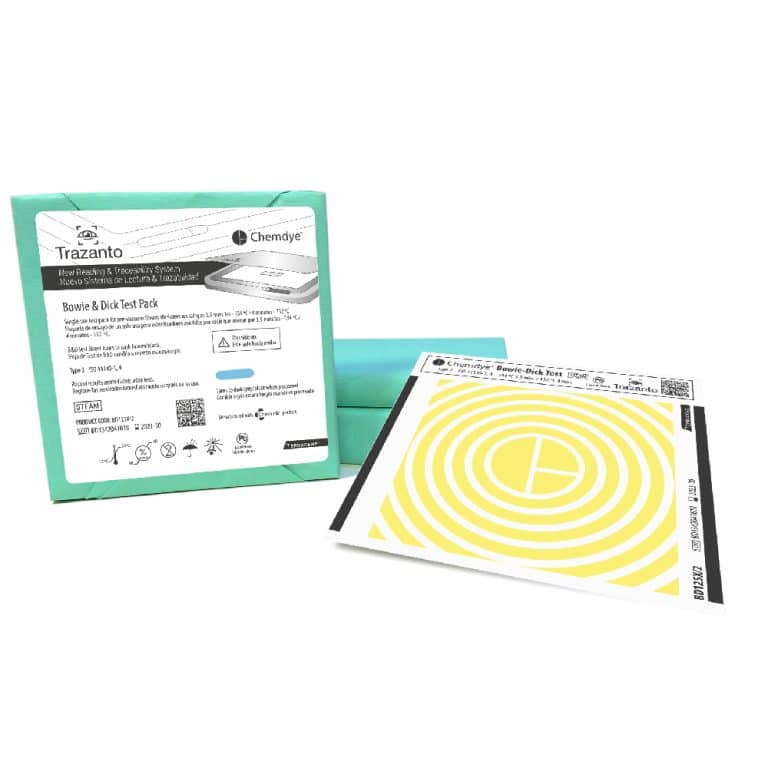 What Process Challenge devices do we offer?
At Sychem, we offer a number of Process Challenge Devices, designed for use in autoclaves, washer disinfectors and other decontamination equipment.
Our vast portfolio spans Cleaning Indicators and Protein Residue Testing for use in washer disinfectors and Biological Indicators and Chemical Indicators designed for use in autoclaves.
In the Healthcare industry, the sterile service department's equipment must be operating to regulatory standards. While the Health Technical Memorandum offers guidance and regulatory compliance on what should be done, choosing the right products to monitor the sterilisation and decontamination processes is up to the department, and the facilities Authorised Engineer in Decontamination (AED).
Who are Terragene?
Our complete portfolio of Process Challenge Devices are manufactured by the Infection Prevention giant, Terragene. As the UK exclusive partner since 2017, Sychem and Terragene have worked together to support SSD departments across the UK.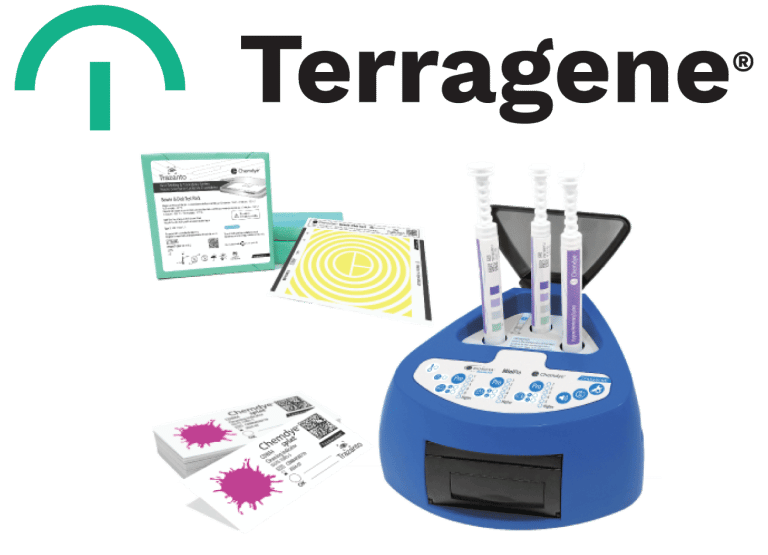 Our range of autoclaves
At Sychem, we also offer a complete portfolio of autoclaves manufactured by our partner Steelco, for use in Healthcare, Laboratory and Life Science facilities.
Discover our complete range of Infection Control consumables, Decontamination equipment and Equipment Servicing contracts, or contact a member of our expert team to find out more!
Can't find what you're looking for? Visit the Terragene and Steelco websites for more information.
Enquire
"*" indicates required fields